The inventory holds items you gather or receive from other players.
Your initial inventory contains 8 slots while each slot can stack 20 pieces of an item.
You can craft or purchase a backpack to increase the holding slots.
There is 3 type of backpack that increase your slots by 4 or 8 or 12.
1) Click on the bag icon in your HUD to open your inventory.

2) When you select an item, you can read it's description by clicking on description button.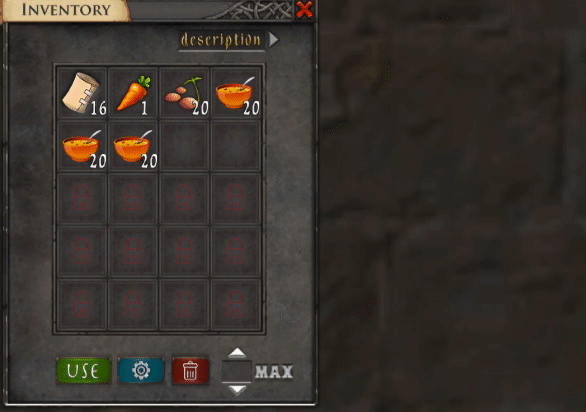 3) You can Use, Give, Throw or delete your items.
4) Some items are usable such as Carrot or Meat and some aren't such as Carrot Seed, Pine Log or Limestone.
5) Usable items give you stat advantages such as health, mana, energy.
6) Non-usable items can be combined with other items and crafted into a new item, for example 2x pine log + 1x metal = 1x hatchet.
7) Consumable items however must be assigned to one of the two pocket slots before being used.
8) In order to assign an item from your inventory to a pocket slot, simply select the item, select the amount you wish to assign then click one of the pocket slots.